Innovative Live Theatre in a Time of COVID-19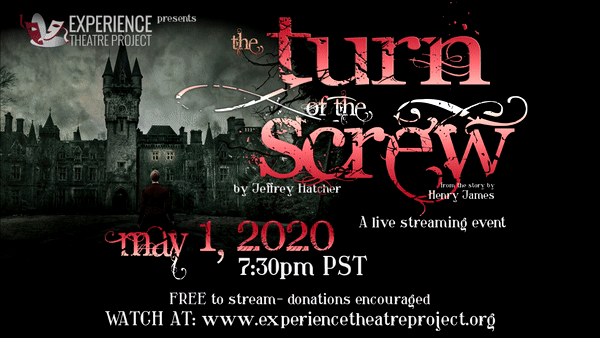 Experience Theatre Project met the COVID-19 crisis with innovation by presenting a full-length live stream of The Turn of the Screw by Jeffrey Hatcher on Friday, May 1, 2020 at 7:30PM PST. The stream, creatively designed, implemented, and executed for the medium, was viewed here on the ETP website and simulcast to YouTube and Facebook to nearly 7,000 live theatre lovers.
This fully produced, professional presentation of a classic ghost story was streamed live one night only to a global audience. The show was innovatively presented and performed from actors' homes, off script, in costume, complete with lighting and sound cues controlled by home-based crew controlling actors' smart devices.
This production was suitable for all ages. Run time 1 hour 45 minutes with a 15 minute intermission. Due to licensing arrangements, we unfortunately are unable to post any video from this live stream.
​
Directed by Alisa Stewart
Performed by Gwendolyn Duffy and James Luster
Stage Managed by Jenn Lindell
​
Costumes and sound by Alisa Stewart
​
SPECIAL THANKS to Professor D.R. Schreiber for hosting our event, and to the partners of the players, who had to put up with us invading their home spaces with our love of live performance.
​